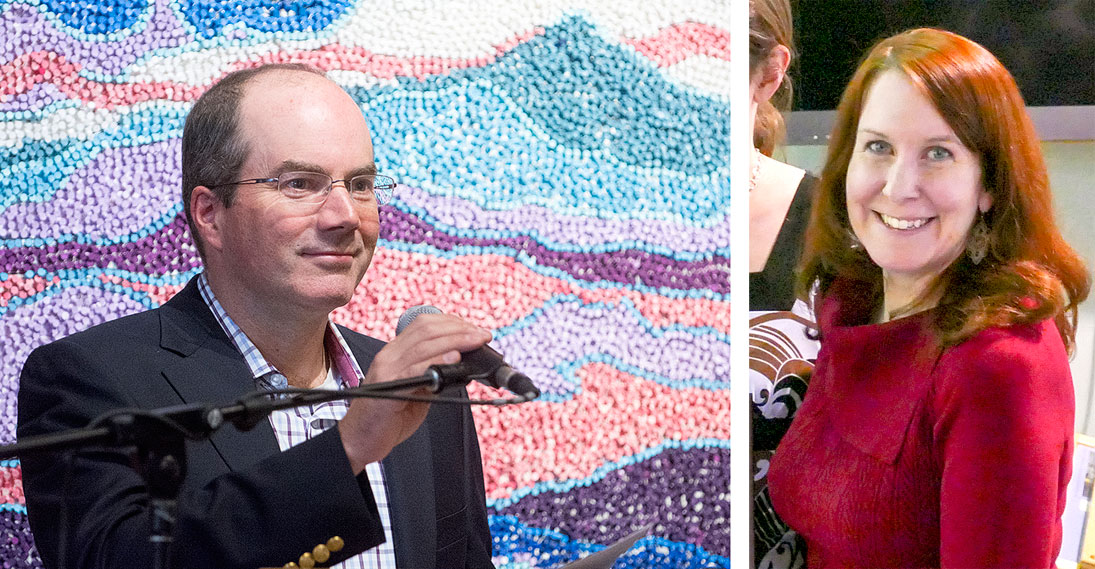 Photo by Whitehorse Star
Keith Halliday and Angela Drainville
Railway society, MacBride Museum to merge
Two museums in the city are slated to become one.
Two museums in the city are slated to become one.
That became apparent after members of the Miles Canyon Historic Railway Society – which operates the waterfront trolley and Copperbelt Mining Museum – voted unanimously Saturday to merge operations with the MacBride Museum of Yukon History.
"I think it's fantastic," Angela Drainville, the railway society's executive director, said in an interview this morning.
The two organizations have been partnering for some time, she noted. That work has evolved into discussions on the merger.
As MacBride president Keith Halliday said this morning, the museum was "thrilled" when those talks began.
"There's so much potential," he said.
It represents a "great opportunity for one plus one to equal more than two" bringing more Yukon stories and events to visitors and locals.
Given the overall challenges tourism has faced lately, the merger will also bring efficiencies that come under one operation rather than two, Halliday said.
"The goals of our organization and the ability to tell Yukon's stories are greatly enhanced by joining MacBride Museum, a leading heritage organization in the territory," Drainville pointed out.
The railway society has been working on solutions to address capacity issues for some time.
It can be difficult to find and keep staff with a wide variety of skills for the part-time work the society needs done, she pointed out.
She said the museum essentially needs about five to eight people working a 20 per cent position. Unable to often draw employees for such positions, Drainville said when things got busy, "it was all falling to one person."
There's many volunteers who have helped the railway society with building projects and the like.
However, finding board members is often a challenge, as there's a number of museums in Whitehorse all doing "great work" that draw a number to those boards, she added.
Drainville said MacBride is a good fit for the railway society given the larger museum's ability to deal with capacity issues as well as the physical proximity the waterfront trolley has with the museum on Front Street.
As Robert Clark, the railway society's past president, said in a statement: "Our research and deliberations led us to approach MacBride Museum about merging our operations.
"We recommended to our members that they vote to create a stronger heritage attraction for visitors, and an amalgamated space for the community to explore and discover our history.
"We believe that consolidation is important for the success of the sector."
Drainville said she believes the merger will help the Copperbelt Mining Museum move toward its goals of providing more interactive, hands-on heritage experiences.
Last year, the museum provided a heritage food growing exhibit where food was grown using methods in place a century ago.
Plans are also in the works for a project that would see visitors gather rocks and minerals around the park and then be able to identify them.
Drainville said that for the coming summer, the railway society will continue to operate under the direction of the current board, with MacBride contracted to run summer programs at the Copperbelt Museum and the trolley.
Summer camps will be a shared venture.
As Drainville pointed out, that will give the larger museum an opportunity to host summer camps at the Copperbelt facility, which features a large playground and outdoor space.
Discussions between MacBride and the Yukon government around facilitating the merger will also have to happen, it was noted in the statement.
As Drainville pointed out though, it will be a "fairly paced procedure" to allow for a smooth transition.
Halliday said MacBride is still working out plans for staffing, programming and so on, though there will be shared programming this summer.
The merger comes in the midst of a multimillion-dollar expansion for MacBride, but Halliday emphasized museum officials are confident both initiatives can move forward and will be a benefit to the community.
Add your comments or reply via Twitter @whitehorsestar
In order to encourage thoughtful and responsible discussion, website comments will not be visible until a moderator approves them. Please add comments judiciously and refrain from maligning any individual or institution. Read about our user comment and privacy policies.
Your name and email address are required before your comment is posted. Otherwise, your comment will not be posted.