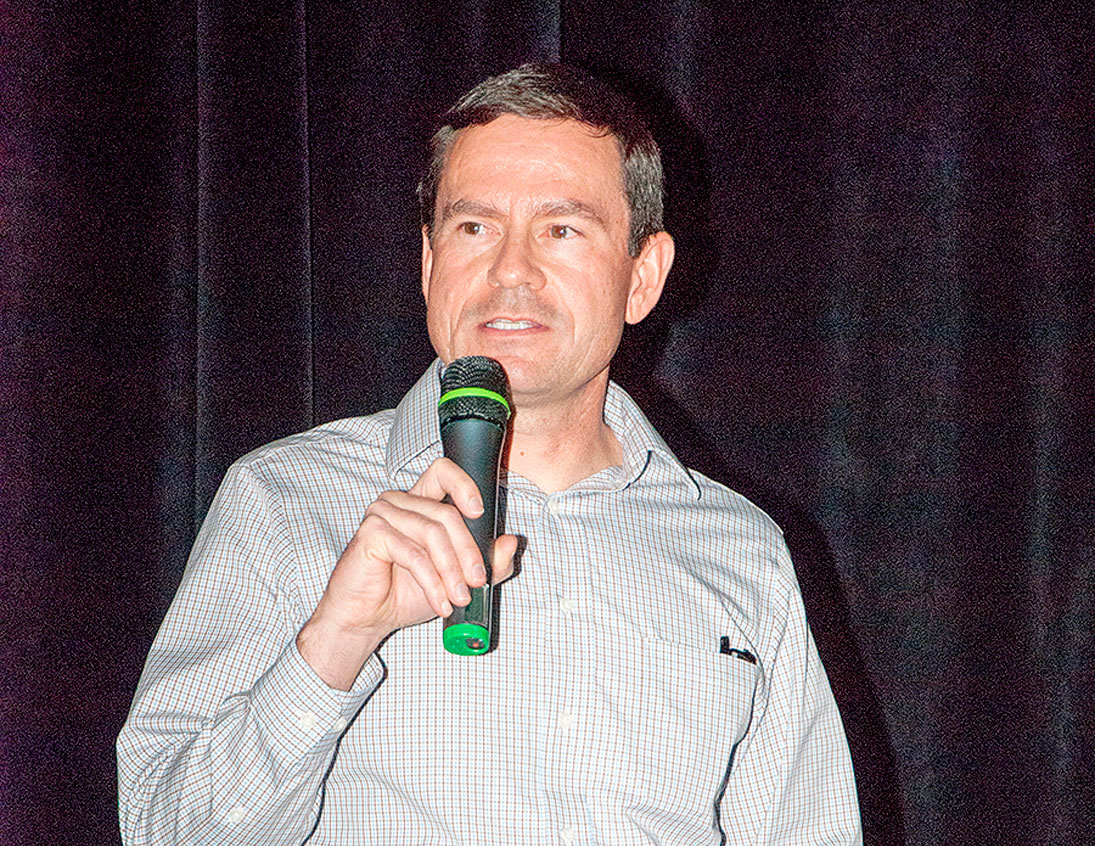 Photo by Whitehorse Star
Buddy Crill
Goldcorp confident about first gold by end of 2020
The Yukon Environmental and Socio-economic Assessment Board says Goldcorp's Coffee Gold Mine Project has not met consultation requirements with three First Nations.
The Yukon Environmental and Socio-economic Assessment Board says Goldcorp's Coffee Gold Mine Project has not met consultation requirements with three First Nations.
YESAB's executive committee made the decision Wednesday to discontinue its assessment of the Coffee Creek proposal until the mining company completes consultation obligations with the Tr'ondëk Hwëch'in, Selkirk First Nation, and the First Nation of Na-Cho Nyak Dun.
The committee found that Goldcorp did not provide the First Nations with enough notice of changes in mine design, or reasonable time to prepare and present views on those changes.
"We're a little bit surprised and disappointed, but we're accepting their decision," Goldcorp mine manager Buddy Crill told the Star this morning.
He said they are working with YESAB to determine the best path to keep the proposed open-pit mine project moving forward.
Wendy Randall, chair of executive committee, said there is no set deadline for how long the consultation will take.
But Crill said he does not expect there will be a significant delay in the project.
"At this point we don't anticipate any surprises that might cause any changes in the schedule," he said.
He noted that Goldcorp is on track for achieving first gold production by the end of 2020 as they have communicated to the markets. And while they could have started road construction by the middle of next year, they are more likely to meet an internal schedule timeline of early 2019.
Goldcorp re-evaluated and made changes to the Coffee Creek mine plan after it acquired Kaminak Gold for $520 million in 2016. This included changes to the waste rock storage facility, the use of the heap leach facility and a 214-km, all-weather access road with river barge crossings to provide access between the mine site and Dawson.
"The potential for change to mine design introduced an element of uncertainty into the nature of the possible effects of the project," reads YESAB's consultation determination.
Crill said the changes to the waste rock storage facility were based on input from First Nations through the consultation process, as there was concern with potential water quality impacts on Coffee Creek drainage.
In December 2016, Goldcorp notified the Tr'ondëk Hwëch'in of the changes and said once it had settled on a storage facility it could provide more clarity and technical information. It provided the same documentation to the Selkirk First Nation in January 2017.
YESAB found that there was no substantive consultation with Na-Cho Nyak Dun before the project proposal was submitted.
Timelines on the proposed project were accelerated with a deadline of March 31, 2017 to submit the project proposal. And while Goldcorp continued to provide the First Nations with extensive information, YESAB says, the deadline did not give them enough time to digest and understand the information or provide a response.
In a May letter to YESAB, Tr'ondëk Hwëch'in Chief Roberta Joseph said Goldcorp had not fulfilled its consultation requirements under the assessment legislation or Tr'ondëk Hwëch'in's Aboriginal land claim settlements.
The Selkirk First Nation also expressed difficulty in meeting the "aggressive timelines" set out by Goldcorp.
Crill said that since March 31, the mining company has continued to consult with First Nations "on a pretty aggressive basis", particularly the Tr'ondëk Hwëch'in as the project will have the most significant impact on their traditional territory.
In a letter sent to YESAB following their decision, Chief Joseph noted, "We are confident that our concerns can be adequately addressed during the next phases of the environmental process."
She said the First Nation has no objections to the proposal proceeding to the screening phase
But Randall said there is no authority under law for the executive committee to proceed with screening until consultation requirements are met.
Once consultation is completed, Goldcorp will submit a new proposal to the committee for screening. Randall said screening can take anywhere from six months to two years, depending on the size and complexity of the project.
Despite the recent setback, Crill said the company is hopeful about the project which will be positive for Goldcorp and the Yukon. And he added they are committed to maintaining good relationships with the First Nations.
"We're very encouraged with what we're hearing from the community and our First Nation partners," he said.
"Goldcorp is committed to sustainable and responsible mining practices."
Add your comments or reply via Twitter @whitehorsestar
In order to encourage thoughtful and responsible discussion, website comments will not be visible until a moderator approves them. Please add comments judiciously and refrain from maligning any individual or institution. Read about our user comment and privacy policies.
Your name and email address are required before your comment is posted. Otherwise, your comment will not be posted.