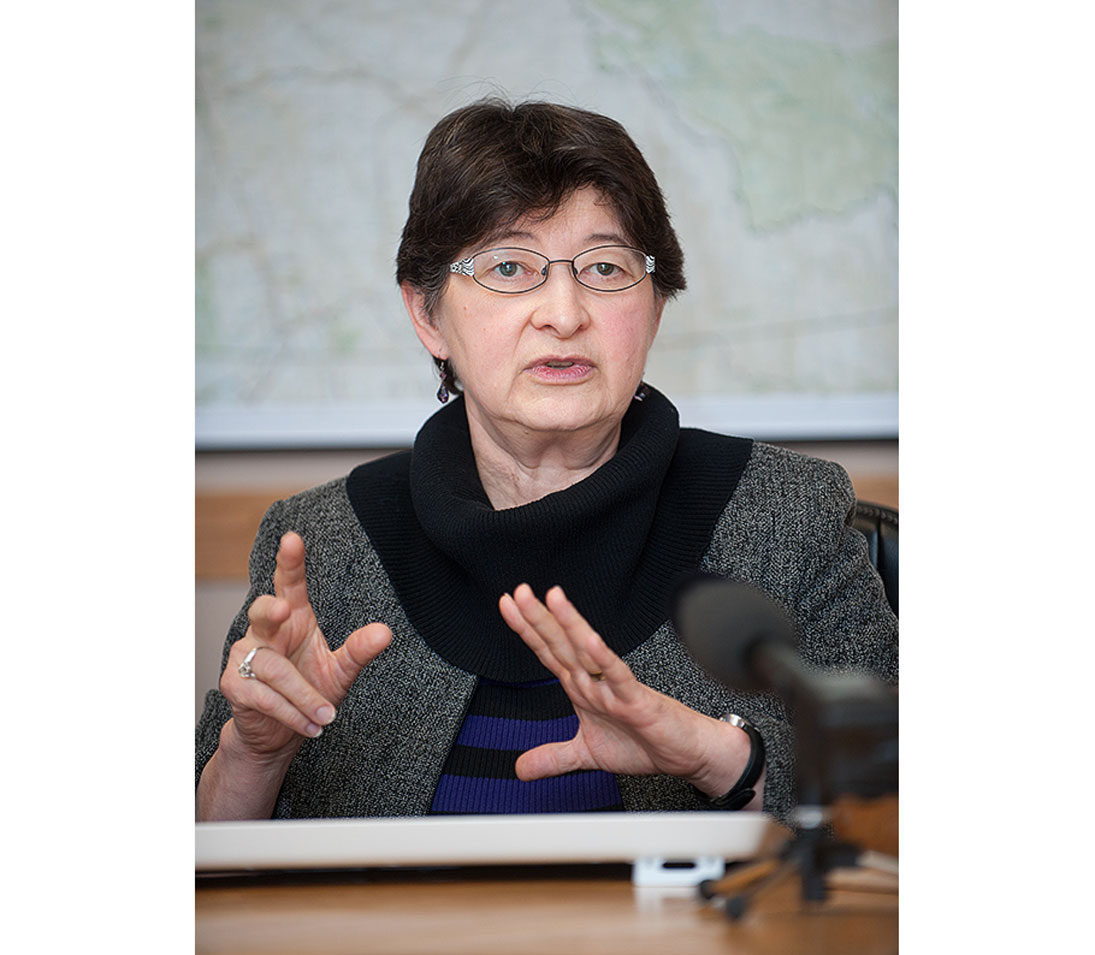 Photo by Whitehorse Star
Mary Vanderkop
Fewer dogs are roaming Ross River
The number of stray dogs in Ross River has notably decreased
The number of stray dogs in Ross River has notably decreased after owners surrendered more than two dozen dogs over the summer, says the Yukon's chief veterinary officer.
An animal protection officer made three trips to the community between May 2016 and the past fall to collect unwanted dogs, Mary Vanderkop said in an interview Thursday. She expects a fourth trip will be made this winter.
Feral dogs have plagued Ross River for years, roaming in packs and endangering residents, especially children.
The issue came to a head last spring, when the Yukon's chief coroner ruled that a 22-year-old man, whose remains were found in the community in October 2015, had been mauled to death by stray dogs.
The 2015 killing of Shane Glada-Dick came amid a series of reported incidents involving dogs in Ross River that year. In one case, a woman was bitten; in another, a young boy was charged at by a dog.
"People are carrying pepper spray and hockey sticks in the community," Kirsten Macdonald, the coroner, said last May.
Though the situation appears to be improving, the Yukon government will continue to collect unwanted dogs in Ross River if the community asks for it, said Vanderkop.
The animal protection officer only takes dogs that are voluntarily surrendered. He's not a dog catcher and he won't round up dogs running wild. The dogs collected in Ross River last summer were taken to the Mae Bachur Animal Shelter in Whitehorse.
"He's been referred to as the dog catcher ... but we've had to make that clear to people in the communities that we're not there to remove dogs or take dogs that might be at large," said Vanderkop.
A dog catcher was sent to Ross River in 2011, but most of the dogs captured were ultimately claimed by their owners.
A community member who wished to remain anonymous said the dog situation in Ross River has improved since the animal protection officer's visits.
Some dogs still roam wild, but "not as much as before," said the resident, adding more people are tying up their dogs now.
The resident said the people of Ross River want the animal protection officer to return.
Voluntary dog surrender is one in a suite of options available to Yukon communities experiencing problems with strays.
The Community Dog Care Initiative enables community leaders and the government's animal health unit to work together to develop solutions to their dog problems.
In Ross River's case, the voluntary dog surrender is working "quite well," said Vanderkop.
"Giving people the opportunity to make a choice works far better, in our experience, than going in and setting traps or trying to capture dogs that might be running at large."
No violent incidents involving dogs in Ross River have been reported since late 2015, said Vanderkop.
The local RCMP have also noticed a difference.
Cpl. Patrick Russell hasn't been approached by a single stray dog since moving to Ross River a week ago.
The new RCMP detachment commander has two German shepherds of his own that he walks through community at any time of the day and night. Neither he nor his pets have run into a feral dog, he said.
"I was keeping up on the past events and the dog problems that this community was having ... and my guard has been up as a result of trying to keep my dogs safe," Russell told the Star Tuesday. "But my fear has been completely unfounded."
Neither Russell nor Vanderkop have heard complaints about dogs being taken.
"The community realized that this was a community-wide issue, so I don't think anybody's backs were up against the wall as a result of dogs being removed," said Russell.
"They knew what the purpose of the visit was for. They were all counselled that if they wanted to retain their dog in the community it had to be leashed or held on the property."
Dog issues are a persistent problem in Yukon communities, and are not helped by the fact that all the territory's veterinary clinics are in Whitehorse and Dawson City.
Ross River scheduled a pop-up vet clinic last year, and was given government funds to facilitate it. Plans fell through with the veterinarian, who was travelling to the community from outside the Yukon.
Vanderkop said they're hoping to reschedule the clinic for this spring.
Rural Yukoners can still get a discount on spaying their dogs, she added.
The $250 subsidy, funded by Environment Yukon, is meant to offset the costs of travelling to a veterinary clinic.
Discounts were made available for 115 dogs, on a first-come, first-served basis, in July, but not all of them were used.
Vanderkop is encouraging Yukoners to take advantage of the subsidy.
Add your comments or reply via Twitter @whitehorsestar
In order to encourage thoughtful and responsible discussion, website comments will not be visible until a moderator approves them. Please add comments judiciously and refrain from maligning any individual or institution. Read about our user comment and privacy policies.
Your name and email address are required before your comment is posted. Otherwise, your comment will not be posted.