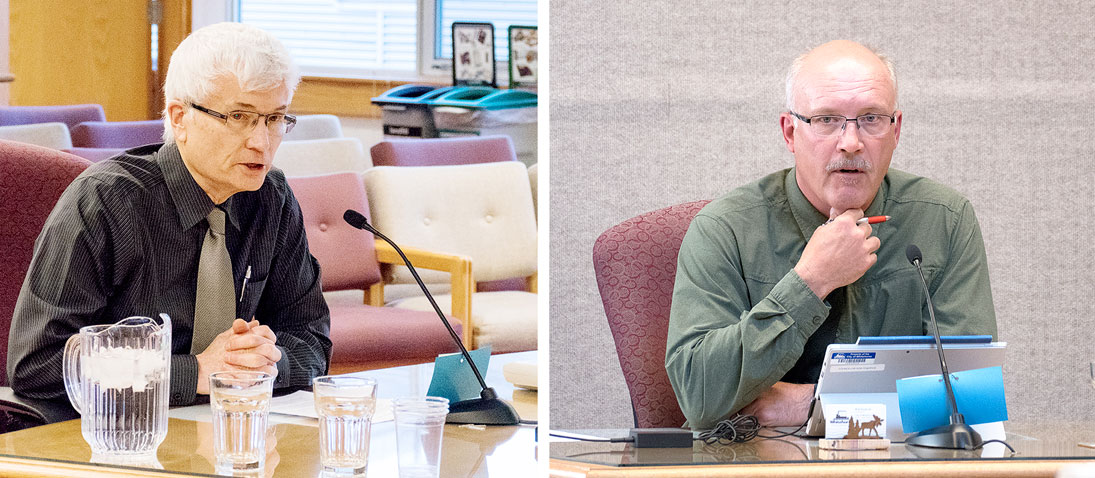 Photo by Whitehorse Star
Keith Lay and Coun. Rob Fendrick
Public will still access council packages on Fridays
Those wanting to know exactly what council will be considering at an upcoming meeting and perhaps prepare a presentation will continue to have a full weekend to do so.
Those wanting to know exactly what council will be considering at an upcoming meeting and perhaps prepare a presentation will continue to have a full weekend to do so.
In adopting a proposed new procedures bylaw Monday evening, council voted 6-1 to keep making the council packages detailing information for the next council meeting (typically the following Monday) available on the last business day of the week preceding the next council session. The option was releasing the information the morning before the meeting.
Coun. Rob Fendrick had initially proposed the change to the Monday, with council moving that forward toward public consultation with the rest of the bylaw.
The city heard back from numerous residents not wanting the release to move to the day of the meeting. They argued that would take away form the public's opportunity to review and be informed about issues coming up for council.
Keith Lay, a local resident who has been vocal about his opposition to move the release, continued to stress that point in a presentation at last night's meeting.
"I see it as a win-win," he said of seeing the information package released on the last business day before a council meeting.
Delegates have more time to prepare and put more thought into their presentation and concerns they bring to council, he pointed out.
Fendrick was the only councillor last night to vote against Coun. Samson Hartland's proposal to keep the release to the Friday, rather than the Monday.
He reiterated his earlier points that having council access the information ahead of the general public gives councillors a chance to review and focus on information provided by city staff without being faced with a range of opinions before there's a chance to review the information.
"It's become a point of principle for me," Fendrick said.
He noted his belief that standing committee (meetings where council discusses issues, but doesn't yet vote on them) is not the place for council to hear arguments on an issue, but rather hear from staff about what council is considering.
After staff provide that information at a standing committee meeting, Fendrick said, anyone wanting to address council about it would have a full week to do so.
The process, he argued, should be done in as clear a way as possible.
While other council members did not join him in voting against keeping the release to Friday, Coun. Roslyn Woodcock said she could see Fendrick's point.
In her first year as a councillor, she said, she has learned just how complex of a job being a city councillor is.
Council relies on city staff to provide a full picture of matters that are being voted on. Woodcock prefers to have read the information package before she is lobbied on an issue.
That said, she noted she is not tied to either the Friday or Monday release date, and voted in favour of the Friday release date.
Mayor Dan Curtis has also argued in favour in the past for the Monday release date.
He maintained his arguments last night that the city would not be any less transparent with the later release time. He added there are numerous opportunities for public input throughout the decision-making process for council.
"We are very, very transparent," Curtis said, but also acknowledged the perception of less transparency with the later release time.
He said he, personally, would support the release of the documents on the same day as the council meeting.
However, he noted he wants to do what is best for the vast majority of Whitehorse residents. Given the concerns over transparency, he said, he's amicable to the earlier release – and voted in favour of it.
Other councillors, meanwhile, noted their desire to make the package available earlier, noting they welcome input from the public as early as possible.
In cases where they haven't yet had a chance to read the information, they can tell a resident just that and respond after they've reviewed it.
"I am very supportive of this," Coun. Jocelyn Curteanu said.
Hartland also noted that the city has started working toward becoming a more open government as the only municipality North of 60 to be part of the Open City Index, which looks at how open municipal governments are.
"The city is doing good work to be more transparent," he said.
Add your comments or reply via Twitter @whitehorsestar
In order to encourage thoughtful and responsible discussion, website comments will not be visible until a moderator approves them. Please add comments judiciously and refrain from maligning any individual or institution. Read about our user comment and privacy policies.
Your name and email address are required before your comment is posted. Otherwise, your comment will not be posted.