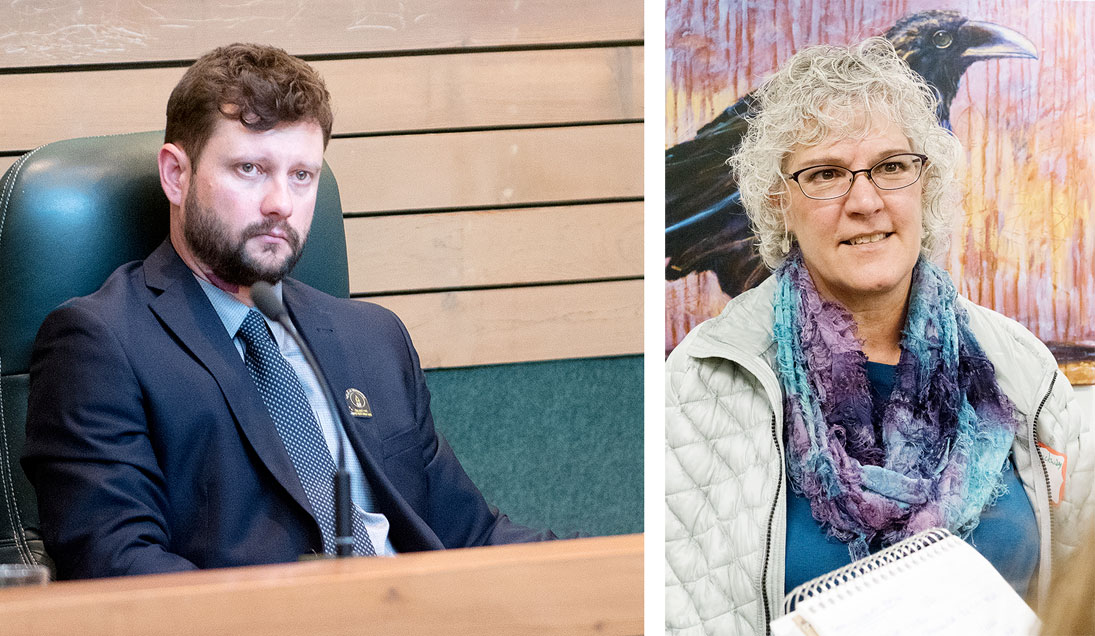 Photo by Whitehorse Star
Liberal MLA Paulo Gallina and Bev Buckway
Let's re-examine daylight saving time, MLA urges
Liberal MLA Paulo Gallina put forward a motion in the legislature Monday
Liberal MLA Paulo Gallina put forward a motion in the legislature Monday to have the government investigate the possibility of eliminating daylight saving time.
Gallina's motion comes on the heels of a resolution adopted unanimously last Sunday by members of the Association of Yukon Communities (AYC) during their annual general meeting in Faro.
The AYC motion was brought forward by Dawson City Coun. Kyla MacArthur.
It reads: "Whereas daylight savings time has little effect on the overall amount of daylight the Yukon receives; and
Whereas studies in other jurisdictions show that daylight savings time can be detrimental to health, vehicular safety, energy consumption and productivity; and
Whereas metabolisms and sleep cycles of our own human bodies, as well as those of children, livestock and pets still do not "know" the hands on the clock have moved forward;
Therefore be it resolved that the Association of Yukon Communities engage with the Yukon government to determine if there is a case for removing daylight savings time in the Yukon."
Most of North America embraces daylight saving time, except for Saskatchewan.
Much of Europe springs ahead an hour in the spring and falls back an hour in the fall.
There are, however, many countries that have never used it or have used it but have since abandoned it.
While it's said to save energy by adding more daylight and reducing the need for artificial light through the spring and summer, the jury is still out on just how effective it is as a conservation tool.
Some believe daylight saving came about in the early 1900s as the result of a prominent English businessman, William Willet, and his desire for longer daylight hours to play golf after work.
Alberta is also in the midst of a discussion about getting rid of the summer time change.
But there are questions, such as whether to go with the Central or Mountain time zone, and thoughts of being two hours ahead of B.C. through the spring and summer months.
Gallina said in an interview Tuesday the AYC resolution was a factor in his decision to bring the motion forward Monday.
But there were also concerns he heard during last year's election campaign about daylight saving from some of his Porter Creek Centre constituents with young families, he said.
Gallina said some parents expressed concern about how changing the clocks twice a year affects their children.
According to procedure, if Gallina's motion is not brought forward for debate before the end of the spring session next month, it would remain on the books.
It will remain on the books until it's debated, or Gallina asks that it be removed, or the legislature is prorogued.
Gallina said there are many motions by Liberal MLAs in the queue. It's a matter of what priority the governing caucus places on each one that determines if and when they are debated.
As long as daylight saving time is an issue for his constituents and Yukoners in general, he will continue to raise the matter, Gallina said.
Coun. MacArthur brought forward the resolution to the AYC general assembly because she feels the question about whether daylight saving should be continued should at least be asked.
Personally, she said in an interview Tuesday, she doesn't see a need for it in the North, where there is ample daylight in the summer and plenty of darkness in the winter.
MacArthur emphasized the resolution is not aimed at removing daylight saving time.
Rather, its purpose is to have the government investigate if there is a case for eliminating it, she said.
Bev Buckway, the AYC's executive director, said a letter has already been sent to Community Services Minister John Streicker and Economic Development Minister Ranj Pillai with copies of resolutions passed in Faro.
There have been 73 motions brought forward since the legislature began sitting April 20. A handful of them have been dealt with.
When the legislature prorogued last year in advance of the fall election, 1,222 motions died on the books.
Though they had been brought forward, they were never dealt with during the five-year term of the former Yukon Party government, according to records.
Add your comments or reply via Twitter @whitehorsestar
In order to encourage thoughtful and responsible discussion, website comments will not be visible until a moderator approves them. Please add comments judiciously and refrain from maligning any individual or institution. Read about our user comment and privacy policies.
Your name and email address are required before your comment is posted. Otherwise, your comment will not be posted.